News
published 2/6/2012
The Board of Directors of the Nellie Burge Community Center proudly announces the appointment of Debbie Dobbins as the new Executive Director. Ms. Dobbins brings to this position 25 years experience with nonprofits and over twelve years in senior management. She directed an outreach office with the Methodist Children's Home in Waco, TX, and was the COO for the United Methodist Children's Homes in Alabama. She holds a Master of Social Work from the University of Texas at Arlington and Master of Education from Texas Tech University. Ms. Dobbins is experienced in program development, working with at-risk families and children, working with nonprofit boards and initiating and fostering partnerships with state and community agencies.
Ms. Dobbins will lead the initiative to open Mary Ellen's Hearth at the Nellie Burge Community Center. Mary Ellen's Hearth will be a residential program for homeless women and their children. Mary Ellen's Hearth offers hope, help and healing to homeless women and children throughout the River Region. It offers hope by providing life skills training and providing transitional housing. It also offers healing through Christian love and support. The goal of Mary Ellen's Hearth is for 80% of the families to leave within two years...their dignity and self respect restored...prepared for a life of independence. For more information about this program, call (334) 264-4108 or visit us at www.facebook.com/NellieBurge.
Working Women's Home Association Grant Presentation L/R Scott Key--NBCC Board President, Winnie Stakely—WWHA Board President, Susan Patton, Board Member, Debbie Dobbins—NBCC Executive Director.

---
published 1/27/2012
(Dr. Herb Sadler) - The best advice I ever got in my ministry came from the father of Bishop Mike Watson. I was a 25 year old recent seminary graduate and had just been appointed as Associate Pastor of First UMC, Dothan. Excell Watson was a wise man and great church leader (Mike was still in high school!). I asked Mr. Watson, "What are lay folks looking for in worship?" His reply was succinct and memorable. "Good preaching and good music." That's it.

I heard that advice 45 years ago and it's still true. Styles have changed some, but preaching that is understandable and helpful and music that is inspiring are still the key ingredients in worship that changes lives.

There is nothing a pastor can do that is more important in his/her effectiveness than to work at getting better at preaching. The Academy for Congregational Excellence has two offerings presently that are designed to help good preachers get even better, one in Dothan and one in Montgomery. They are designed to gather 10-12 clergy together one day a month for a year under the coaching of a proven, excellent preacher.

It is the intention of the Academy for Congregational Excellence (ACE) to begin preaching groups in other parts of the conference as well. If you have the passion to be an excellent preacher, let me know, so we can design a learning community for you and your clergy colleagues or check the events section in the conference newsletters for upcoming "Preaching Excellence" events.

The ACE Mission: Effective Leaders, Fruitful Churches.

---
published 1/25/2012
(Amelia Fletcher, AWF Disaster Response Coordinator) - A mantra of disaster work is that " All disasters are LOCAL." In that vein, UMCOR's funding is unique to each disaster and it depends on the assessment and willingness of the grassroots communities to manage their own disaster. The contributions sent to UMCOR advances are dedicated 100% to the cause of that advance. No overhead is ever taken out of those funds.
Once a year the church is asked to support the office staff and physical operations of UMCOR. One Great Hour of Sharing is the only request that asks for congregations to dedicate their funding to "keeping the lights on" in the UMCOR office. Without that office and the continuity of operations, the response arm of the church would wither and die. As United Methodists responders, we certainly have carved our presence worldwide and our caring for humanity on our behalf should not be hindered by lack of funding for operations.
In just the past decade, the Alabama-West Florida Conference has been the beneficiary of the strong support of UMCOR and their disaster relief staff and funds. From the Ivan and Katrina hurricanes to the current Gulf Oil Spill and Super Outbreak Tornadoes of April 2011, the aid from UMCOR has been offered in an immediate and reliable way, and with expertise.
In 2010-11, UMCOR funding supported the recovery of the Gulf Oil Spill. In disaster world terms, this was not a Katrina. However, the economic and emotional impact on the communities was perhaps just as deep. As volunteers, it gives us a sense of satisfaction to be able to tarp a roof or rebuild a house, but the intangible damage from a man-made catastrophe put responders at a loss for knowing how to help. UMCOR provided the guidance and insight for initiating the Alabama-West Florida response. The conference grant helped to supply resources for a variety of recovery projects: a food panty, two children's recovery camps, family support programs, workshops for community staffs to work within the economically and emotionally depressed area and resources for people with a sudden loss of income to meet the individual needs of their family. Thousands of individuals along the Gulf Coast have been helped thanks to the UMCOR grant.
Charles Walters, Disaster Coordinator for Tornado Recovery in the AWF Conference, has been on the front lines of recovery in an area hit hard from the Spring 2011 storms. "UMCOR has been instrumental in the AWF UMC Conference in both disaster preparedness and disaster recovery. UMCOR has supplied our current disaster team in Livingston through training and support, bringing to our office both organization and professionalism. They have led training programs on spiritual care, case management and emergency response and also developed a program called connecting neighbors, which is a class that will help a church body be more informed of the sequence of events following a disaster and the steps that they can take as a community to prepare for it," he said.
One Great Hour of Sharing is a vital offering that allows UMCOR to be at our front door when we need them most. Prayerfully consider giving to this worthy offering on March 18. To order your free One Great Hour of Sharing resources, click here.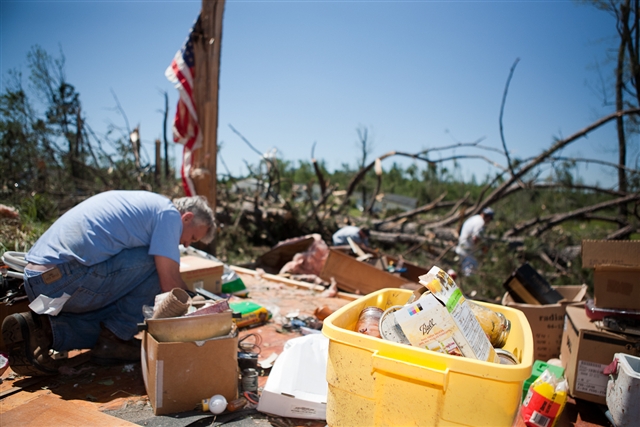 ---
published 1/25/2012
Seminar To Help Develop Policies And Procedures For Reducing Risk Of Abuse In Churches And Organizations

On February 21, 2012, First United Methodist Church of Pensacola will host Rev. Joy Melton, author of the United Methodist Church's Safe Sanctuary Policy on protection of children, youth and vulnerable adults. Rev. Melton has worked with hundreds of congregations and organizations to help develop comprehensive abuse prevention policies and procedures for implementation in ministries involving children, youth, and adults. Two training opportunities, lasting two hours each, will take place on February 21st at 1:00 PM and again at 6:00 PM. Childcare is available during the evening session only. The seminars will take place in Wesley Abbey on the campus of First United Methodist Church of Pensacola. First United Methodist Church of Pensacola is located at 6 East Wright Street on the corner of Wright and Palafox Street in beautiful downtown Pensacola. The seminars are free of charge and open to the public. All staff and volunteers of organizations, churches and non-profits that deal with children, youth or vulnerable adults are encouraged to attend. Rev. Melton is a United Methodist clergyperson and an attorney. She holds a Bachelor's Degree in Christian Education from Pfeiffer College in North Carolina; a Master of Arts degree from Scarritt College in Nashville, Tennessee; and a Law Degree from Emory University in Atlanta, Georgia. She is a partner in the Atlanta law firm of Hinds & Melton, LLC. She is also the author of Safe Sanctuaries: Reducing the Risk of Child Abuse in the Church and Safe Sanctuaries for Youth: Reducing the Risk of Abuse in Youth Ministries. In her books and training seminars she defines abuse and its many types, common indicators, legal requirements for reporting abuse, and also provides guidelines for screening and hiring workers and volunteers. In addition she outlines basic procedures of safe ministry with children and youth and outlines a congregational plan for responding to allegations of abuse. You will not want to miss this important training event for your church or organization.

If you would like more information about this topic, or to schedule an interview, please call Jeb Hunt at 850-748-1257 or email Jeb at jebhunt@pensacolafirstchurch.com.
---
published 1/17/2012
(Dr. Jeremy Pridgeon) - The Cabinet of the Alabama-West Florida Annual Conference met last week in a regularly scheduled session in Montgomery. We continue to celebrate the work of local congregations in "Living the Mission" of the church as we seek to make disciples of Jesus Christ for the transformation of the world.

A significant part of our time together was spent in conversation about the state of the church. We shared stories of where God is at work in our districts, evidenced by the fruit we are seeing borne in communities across Alabama and West Florida. We discussed the effects of the on-going shift in churches from being attractional to missional, realizing that in the past in many congregations, the focus had been primarily on worship in order to draw persons to our congregations, at the expense of calling persons to a life of discipleship. In addition, with insights provided by Dr. Jeff Spiller, senior pastor of Christ UMC, Mobile, we explored the dynamics of "evangelism" and "discipleship", with evangelism being understood as "an invitation to live into the message of the gospel and the Kingdom of God", and discipleship meaning "to break with the past to live into the unfolding revelation of the Kingdom." We are of the belief that where discipleship exists, an evangelical and missional impulse will follow.

We participated in our Incubator process, reviewing the book Deep Change. We discussed "life-giving" choices that can be part of our conversations and behaviors that will model hope and expectancy in our work across the conference. We also reflected on what we felt was going right in the conference, pointing to a celebration of mission, a permission-giving climate, a greater sense of connectedness with one another and a continued focus on fruitfulness over faithfulness in the life of the church. It was noted that across the denomination, Christ, the Caretaker of the Vineyard, is breaking the branches of the vine not producing fruit.

Continuing to reflect on the creation of new faith communities, the Cabinet affirmed its belief that this will be best done through existing local congregations rather than coming exclusively from the Conference Office. This embodies a more organic sense of connectionalism.

Additional items discussed included: the clergy health initiative of Duke Divinity School, identifying ways to reengage the "ministry zones" around our churches, entering data for Vital Congregations and Year-End Reports, a review of connectional giving and direct billing receipts, and conducting consultations with clergy and congregations ahead of the appointment making session.

We are grateful for the clergy and laity of the Alabama-West Florida Conference and the leadership you are providing to all of God's children across our area. We are encouraged by the creative ways the people called Methodists are living the mission in our communities. We are excited at the possibilities for ministry in the coming year and eagerly anticipate what God will do in us, through us, and even in spite of us in 2012!
---